Setting Our Kids Up for Success
In partnership with The Erikson Institute, United Way's Success By 6 early childhood community collaborative released a 2020 data set provided through the Early Development Instrument (EDI). With this data set, we can see where our children are thriving and how we need to invest in their lives. 
---
What is EDI? Learn more by watching the video below:
For example, 19% of the children in Evergreen Acres of Kankakee County are vulnera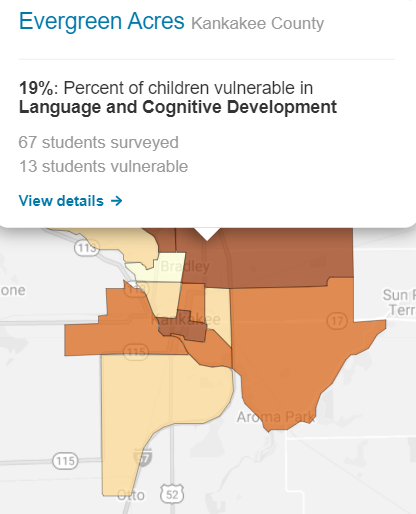 ble in developing language and cognitive functions. (See graphic, right.)
The Early Development Instrument data helps pinpoint which areas are home to the most vulnerable children. Using the contextualized data from the residents, we can intentionally guide the decision-making process to create strategies, distribute resources equitably, and identify the best way to create long-lasting changes.
---