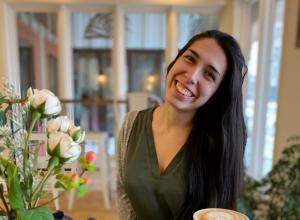 Mariah (Garratt) Vail, MBA, joined the United Way team in 2021, and was promoted to the role of Executive Director in May of 2023.
Mariah started her work in Kankakee County with Olivet Nazarene University's Office of Development. With a Master's degree in Corporate Communications, she has led communications and community navigation efforts at the Pledge for Life Partnership, Project SUN, and the Kan-I Help Information Network.
Outside of her service with United Way, Mariah has been a coffee ambassador for Connect Roasters since 2018. She is a Ministry Lead for Safe Families for Children, a Christian organization that provides temporary hosting for children and supports families in crisis. Mariah is the NDI President for her home church, Community Cup Church of the Nazarene, and an auxiliary board member with the Kankakee County Museum.
Mariah and her husband, Dustin, live in Kankakee and enjoy biking, watching basketball, and enjoying coffee together.